2015 Nissan Altima for lease in Milwaukee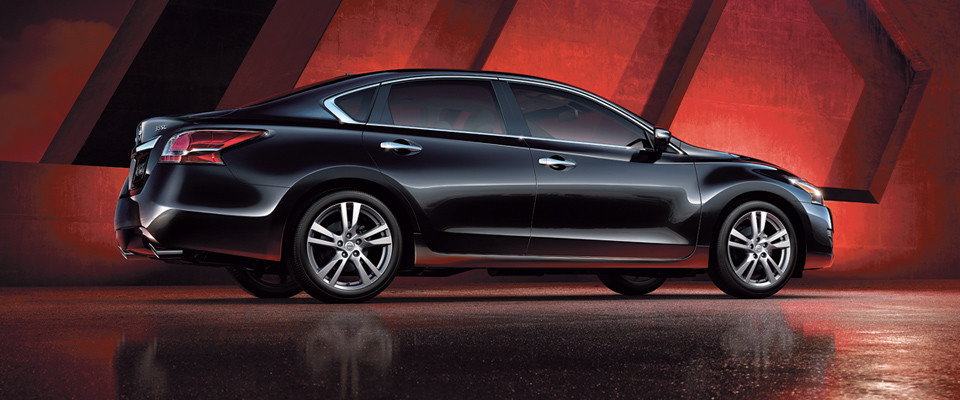 View 2015 Nissan Altima Inventory
2015 Nissan Altima for lease in Milwaukee
The 2015 Nissan Altima for lease in Milwaukee offers a driving experience unlike any other. Buoyed by Nissan's continuous innovation, the Altima offers impressive acceleration, tuned handling, and a satisfying fuel efficiency. We at Russ Darrow Nissan in Milwaukee want to offer a buying experience unlike what you'll get from any other dealer - we want to be the best in sales, service, and personnel.
The Altima is all about keeping you informed while keeping you focused. Its specially-designed instrument cluster tells you all you need to know without telling you anything you don't. Available Moving Object Detection will alert you to objects you might have missed. If your tires are low, the cluster will display an alert, thanks to the Tire Pressure Monitoring System (TPMS). All of this without distracting you from the task at hand - driving safely and considerately.
To keep you informed, the TPMS displays an icon on your dash if your tires aren't inflated up to proper specs. The optional Advanced Drive-Assist Display tells you specifically which tires need air. To eliminate all the guesswork, the Easy-Fill Tire Alert sounds a friendly beep when the tire you're filling has enough air.
Ready for something you don't see every day? The available Smart Auto Headlights turn on automatically in the dark, or after four swipes if you activate your wipers. This is an incredible step towards safety, as it becomes increasingly difficult to see cars as rain strengthens, especially colors like gray or silver. The lights also switch on if you drive into a tunnel, but they won't turn on if a shadow happens to pass over your car. Talk about pioneering innovation.
Speaking of lights, the Altima's optional High Intensity Discharge (HID) xenon low-beam headlights illuminate the road ahead with a brighter, exceptionally defined beam pattern than the average headlight. HID headlights are the way to go - period.
The 2015 Altima experiences both improved acceleration and improved economy. Nissan achieved this through stringent and strategic weight reduction. By improving the car's power-to-weight ratio, Nissan was able to increase the Altima's functionality, in addition to upping the fun. Don't believe us? Visit Russ Darrow Nissan and test drive one yourself.
When it comes to powering this beast, you have some say in the matter. You have your choice between Nissan's VQ V6 (yes, that one) and their efficient and spirited 182 horsepower 4-cylinder. The V6 generates 270 horsepower and a laudable 32 MPG on the highway, while the 4-cylinder manages 38 MPG on the highway. So, you see, the choice is yours.
The 2015 Nissan Altima for lease in Milwaukee combines some of the best characteristics from the Nissan family, providing you an especially satisfying ride that comes at an affordable price. We at Russ Darrow Nissan in Milwaukee want to help you find a car that makes you smile when you sit in it. Come test drive the Nissan Altima today - you just might find that it's the car of your dreams.
Directions to Nissan Milwaukee
Contact us about the 2015 Nissan Altima