2015 Nissan Murano for lease in Wauwatosa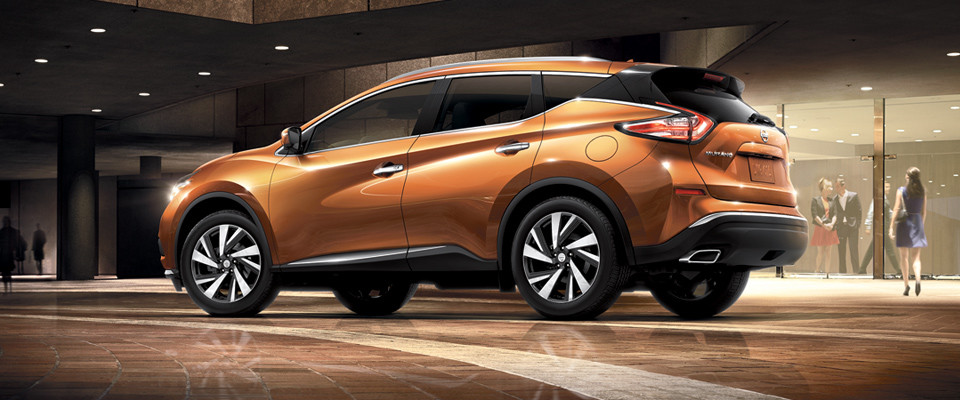 View 2015 Nissan Murano Inventory
2015 Nissan Murano for lease in Wauwatosa
One of the premier family crossovers on the market today, the 2015 Nissan Murano for lease in Wauwatosa is an impressive, satisfying package. Nissan designed it to stand out among a crowd, and we think it does just that. At Russ Darrow Nissan of Milwaukee, we strive to provide the kind of service that separates us from our competition - we want to be the best in sales, service, and personnel.
The Nissan's interior is one of its outstanding characteristics. You might say it will remind you of the most comfortable room in your house, though it would be more accurate to say it will become your new favorite living space. With an open, uninhibited interior, you just might find conversation and discussion easier than before.
Not to mention, the available heating and cooling of the seats mean your passengers will always be able to get comfortable. We can all agree it's much easier to have a conversation when we're not cranky because of the heat or chattering from the cold. The front and rear outboard Zero Gravity Seats benefit from the latest technology, and they are designed to help take pressure off your lower back and, thus, reduce fatigue on longer trips. Rear passengers can easily adjust their seats up and down, allowing them to achieve their ideal seating position.
One thing the Murano doesn't lack is space. It allows you to almost double the available cargo capacity to approximately 70 cubic feet if you collapse the split rear seats. The 60/40 split rear seats make this easy, requiring only the pull of a level; pull the lever a second time to restore the seats to their upright and locked position.
The Murano's expanded center console means that there is a bit of extra space between the front and rear seats. Taller passengers will certainly appreciate this, and the extra room to think makes it easier to take in the inherent beauty of the road and countryside. For those that need to charge appliances, the Murano has two available USB ports, making it easy for you to plug in, charge, and play some tunes.
Armed with bold, striking body lines and a drag coefficient that makes some sports cars jealous, it's clear that the Murano was designed with aesthetics in mind. Its boomerang-shaped headlights are available with the most modern LED technology. LED bulbs create a light pattern that replicates the sun's natural light, while the LED Daytime Running Lights provide lower-intensity to further increase visibility.
Nissan loaded the Murano with numerous safeguards to ensure that you're protected, even if the worst happens. With sensors monitoring the road ahead and other vehicles nearby, you can rest assured that your Murano is working hard to keep you safe. The advanced airbag system offers dual-stage front airbags, and the traction control system helps minimize wheelspin in treacherous conditions.
Offering a 28 highway miles-per-gallon rating, the 2015 Nissan Murano for lease in Wauwatosa is one impressive vehicle. Visit us at Russ Darrow Nissan to test drive and see for yourself!
Directions to Nissan Wauwatosa
Contact us about the 2015 Nissan Murano