2015 Nissan Murano for sale near West Allis, WI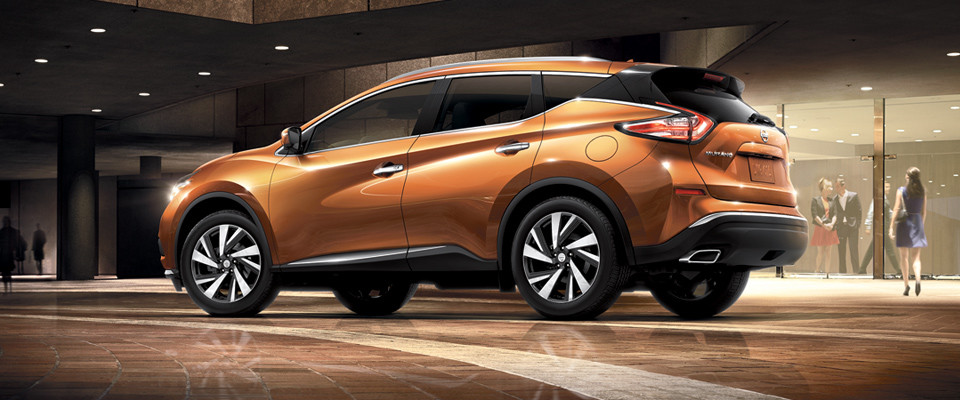 View 2015 Nissan Murano Inventory
2015 Nissan Murano for sale near West Allis, WI
When it comes to the best of midsize crossovers, Russ Darrow Nissan is proud to offer the versatile, 5-passenger 2015 Nissan Murano for Sale in West Allis, WI. Not only is it a comfortable ride, but the design is stylish and luxurious. If you're looking for an upscale, powerful crossover that gives a sense of opulence, the 2015 Nissan Murano is a smart choice.
2015 Nissan Murano Design
The exterior design is very futuristic and ultra-modern, with lines to a "floating" roof to create the illusion of the rear roof section being held by the glass alone. Along with contrasting chrome accents and distinctively styled headlights, the 2015 Nissan Murano for Sale in West Allis, WI is stylish and hip. This vehicle comes in four trim levels: S, SV, SL, and Platinum. Each of them is able to front- or all-wheel drive, depending on your preference.
2015 Nissan Murano Features
The S comes standard with 18-inch alloy wheels, a tilt-and-telescoping steering wheel, climate control, and cruise control. Electronic features include Bluetooth connectivity, a 7-inch touchscreen, a rearview camera, and a six-speaker sound system. An optional Navigational package includes an 8-inch touchscreen, voice recognition, navigation system, HD radio, and a USB port with iPod interface.
The higher trim levels include such features as leather-wrapped steering wheels, leather upholstery, a 360-degree parking system, and more.
Under the hood of the 2015 Nissan Murano for Sale in West Allis, WI is a 3.5L V6 engine that produces an astounding 260 hp and 240 lb-ft of torque. A continuously variable transmission (CVT) is standard, and drivers have a choice (as previously mentioned) of either front-wheel drive or all-wheel drive. Regardless of which one the driver chooses, though, the fuel economy is still impressive.
The 2015 Nissan Murano comes standard with antilock brakes, traction and stability control, several types of airbags, hill-start assist, active front head restraints, and a rearview camera. The higher trim levels include numerous other features to help ensure the safety of drivers and their loved ones.
When it comes to finding the right vehicle to fit your needs – and budget - the Russ Darrow Group offers great pricing, customer service, and inventory. For over 40 years, the Russ Darrow Group has served the Wisconsin communities. In fact, we have 17 locations conveniently spread throughout Wisconsin. The Russ Darrow Group has a track record for success, and a positive plan for the future.
When you purchase the 2015 Nissan Murano for Sale in West Allis, WI, you become part of that positive future. Give Russ Darrow Nissan of Milwaukee a call at 888-663-3769 to arrange your test drive today.
Directions to Nissan West Allis
Contact us about the 2015 Nissan Murano