2017 Nissan Armada near Waukesha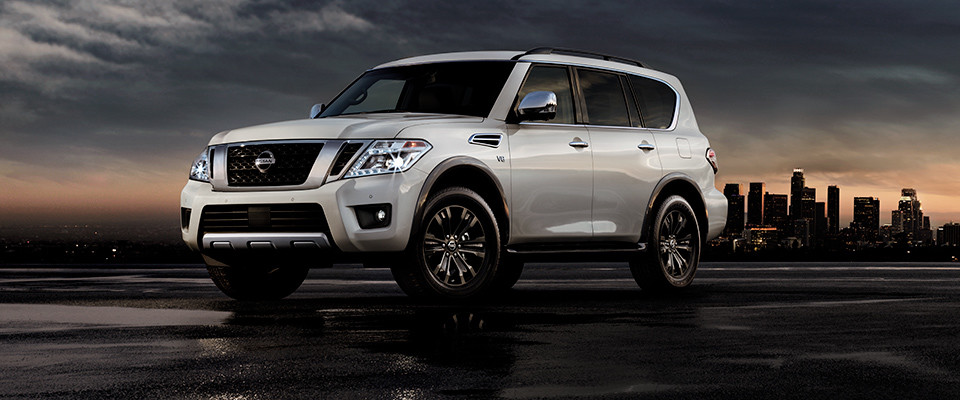 View 2017 Nissan Armada Inventory
2017 Nissan Armada near Waukesha
When you come to Russ Darrow Nissan Milwaukee to test drive a 2017 Armada that's for sale near Waukesha, make sure you bring the whole family. For, everyone will want a say in what vehicle you get -- and everyone will actually agree on a model once they ride in the 2017 Armada. The Armada has plenty of power (390 hp and 383 lb.-ft. of torque) and a massive towing capacity (8,500 lbs.), but it's the cabin that truly sets the Armada apart from other large SUVs. From the first row to the third row, here's why the entire family will love the 2017 Nissan Armada.
Fully Loaded Front-Row Seats
Up front, the driver's and passenger's seats ensure you and your navigator will always be riding in comfort.
Both seats come standard with 8-way adjustments to ensure whoever's up front is always comfortable, and the driver seat has an additional lumbar support (which can save the lower back on long drives). The SL trim adds heated leather front seats, and climate controlled (heated and cooled) first-row seats come with the Platinum trim.
Both driver and navigator appreciate the standard 8-inch touchscreen monitor that's equipped with Nissan's navigation system, and an available Technology Package adds a host of features that make the driver's job easier. The driver assist features that come with the Technology Package include:
intelligent cruise control
distance control assist
forward emergency braking
predictive forward collision warning
blind spot warning
backup collision intervention
(These are all in addition to the two sonar systems that come standard.)
Bench or Captain's Second-Row Seats
The second row presents a choice in seating: bench-style seating or captain's chairs. The bench-style seating can fit three comfortably, which makes the Armada's maximum seating capacity eight. If seating for seven is sufficient, though, the captain's chairs give two people extra room to stretch out in the second row. There's also a center console that's spacious enough no one will be fighting over the armrest.
To keep backseat passengers entertained on long drives, the Armada has an available three-zone entertainment system. This system includes a screen mounted on the back of each front seat headrest, giving the second-row passengers two screens that can be operated independently of each other. When paired with captain's chairs, this row becomes a mini, mobile movie theater -- and some navigators may elect to ride in the back rather than up front even when just two people are in the SUV.
Comfortable Third-Row Seats
In the third row, passengers are still comfortable. The seat is wide enough and has sufficient leg room to accommodate three larger passengers with ease. Additionally, the seat itself is comfortable, so no one will be hurting after a day on the road.
When equipped with the three-zone entertainment system, there's a screen that's just for the third-row passengers. While they do need to share this screen with each other, they don't have to watch what the second-row passengers are viewing.
If you're looking for a large vehicle that will accommodate the whole family and a few friends, come see the new Nissan Armadas for sale near Waukesha at our dealership. Our sales team will be happy to take you and your family for a test drive and let everyone go for a ride in it. We're confident everyone will be pleased with the quiet, refined and spacious interior, or else we wouldn't invite you to make the drive from Waukesha and test drive a 2017 Armada.
Directions to Nissan Waukesha
Contact us about the 2017 Nissan Armada