2017 Nissan Armada near Whitefish Bay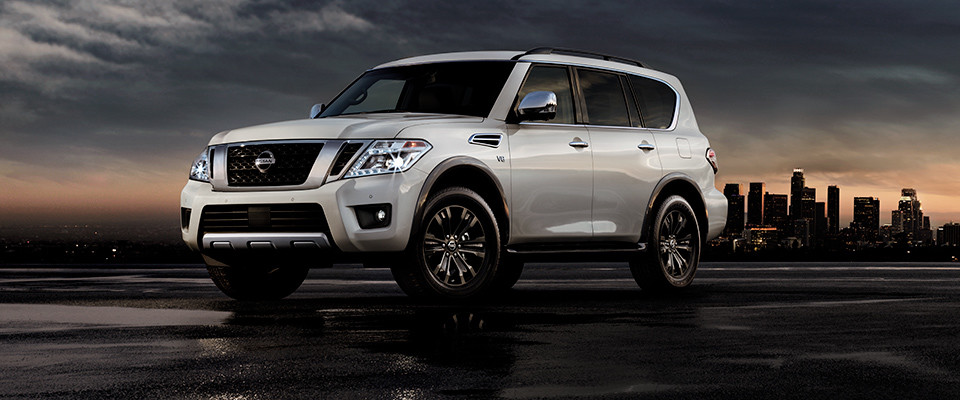 View 2017 Nissan Armada Inventory
2017 Nissan Armada near Whitefish Bay
The Nissan Armada spend the past year on a sabbatical, but it's returned for 2017 -- and it's come back with force. The 2017 Armada has been fully redesigned, yet it remains a traditional SUV in the truest sense of the term. To see all that the new Armada has to offer, come to Russ Darrow Nissan Milwaukee and see the 2017 Armadas for sale near Whitefish Bay.
Room for the Family -- and Friends
When you first see a 2017 Armada for sale near Whitefish Bay, you'll immediately notice its size.
With three rows of seating, the Armada easily seats the whole family along with a few friends. There's room for eight with the traditional seating configuration, or seven if the second row is changed to bucket seats.
Power for Hauling Heavy Loads
Once you're behind the wheel of a 2017 Armada that's for sale near Whitefish Bay, you'll feel the Armada's power. Unlike sports cars, though, this power isn't just for show. It's there for hauling -- and hauling heavy loads at that.
The 2017 Armada is powered by a 5.6-liter, 32-valve Endurance V8 that means business. The engine delivers 390 horsepower and 394 pound-feet of torque, and all of this power can be used to tow since the Armada's built on a strong truck chassis. Its towing capacity tops out at 8,500 pounds, which is more than enough for hauling most boats, campers or utility trailers.
Drivetrain Options for Different Feels
The 2017 Nissan Armada is available with two different drivetrain options. If you prefer the traditional SUV setup, there's a rear-wheel drivetrain that lets you enable four-wheel drive when necessary. For a more updated drivetrain, go with the all-wheel drive option.
Awards and Accolades from All Over
In a market that's inundated with underpowered and undersized vehicles, a well-built, full-sized SUV stands out.
More than one professional organization has also recognized the 2017 Armada. It's been named "SUV of the Year" by Popular Mechanics, and organizations in New England and Texas also gave it accolades.
Most importantly, many drivers in Whitefish Bay have been impressed with the Armada, and we at Russ Darrow Nissan Milwaukee think everyday drivers' opinions matter most.
Our dealership is conveniently located at 11212 W. Metro Auto Mall in Milwaukee. We've shown many drivers in Whitefish Bay the 2017 Armada, and we'd be happy to take you for a test drive in the award-winning SUV. Come visit our dealership between 9:00 a.m. and 9:00 p.m. on weekdays, or 9:00 a.m. and 5:00 p.m. on weekends.
Directions to Nissan Whitefish Bay
Contact us about the 2017 Nissan Armada