2017 Nissan NV Passenger near Shorewood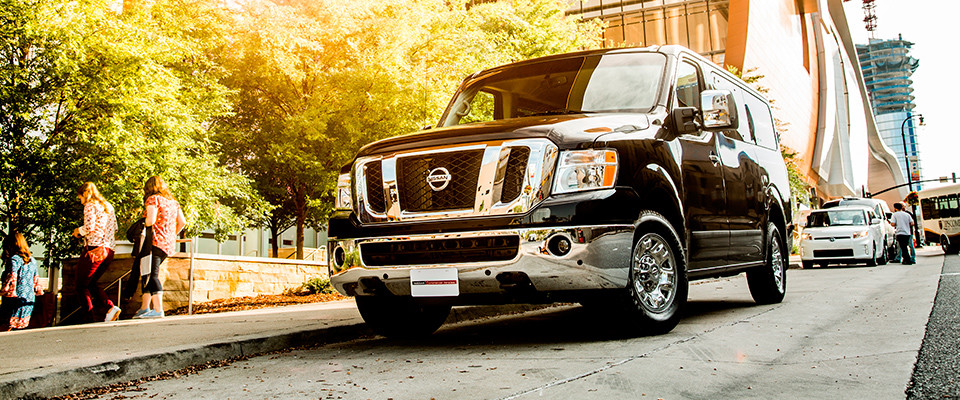 View 2017 Nissan NV Passenger Inventory
2017 Nissan NV Passenger near Shorewood
The 2017 NV Passenger isn't your average van. This powerful and spacious vehicle is capable of comfortably transporting up to 12 passengers while also providing ample cargo space . You can easily transport virtually any combination of passengers and cargo and experience the power and performance of the Nissan 5.6 litter Endurance V-8 engine. It is a great option for drivers who expect more from their vehicles.
2017 NV Passenger Vehicle Information
The 2017 Nissan NV Passenger has been updated and equipped with a new powertrain system. This latest model features an impressive V-8 engine and a heavy-duty seven-speed automatic transmission for smooth and powerful performance. While much of the body styling and exterior details have remained the same, drivers can choose from various trim packages for the right combination of form and function.
The base S trim package comes with 50/50-split rear cargo doors, adjustable front seats, three rows of configurable bench seat, front and rear air conditioning and a well-equipped audio system. While the basic trim provides plenty of comfort, most drivers opt to upgrade to the SV trim package which adds another layer of luxury and convenience. The SV includes chrome exterior accents, a security system, remote keyless entry, power windows and locks, power outlets throughout the cabin and a six-speaker audio system with controls directly embedded in the steering wheel.
If you want to experience the best in luxurious features that Nissan has to offer, then be sure to check out the SL trim package. It comes with leather upholstery throughout, heated front seats, touchscreen navigation, rearview camera, bluetooth enabled features, satellite radio and all the latest technology. For those who will be mainly transporting passengers, this high-end trim package provides the best in available comfort.
Specifications for the 2017 NV Passenger
While Nissan has long been known as a leader in creating stylish vehicles that incorporate the best in safety features, the latest evolution of the 2017 NV passenger has taken performance and convenience to an all new level. The 5.6-liter engine provides 375 horsepower and 387 pound-feet of torque, which makes it easy to tow up to 8,690 pounds along with a full cargo area and passengers.
The interior also includes a long list of practical and utilitarian features that help make it the perfect work vehicle and mobile office. The dashboard and middle console are designed to easily hold various devices, such as phones, tablets and chargers. If you need to take notes or complete invoices, the console provides a spacious writing surface. The console is also the only of its kind on the market that actually opens up and contains hooks for storing hanging files. You can enjoy a truly mobile office that helps you stay organized on the road.
Choose from various trim packages, chassis sizes and an overhead compartment addition to find the perfect combination of features that will accommodate your needs and allow you to safely and comfortably transport both passengers and cargo. When it comes to performance and luxury, the NV Passenger stands out from the competition and provides a superior set of features that you simply won't find in other makes and models.
To learn more about the 2017 NV Passenger and take one for a test drive, visit Russ Darrow Nissan Shorewood. Our convenient location makes us just a short drive from Minnetonka, Plymouth and other surrounding communities. We are open Monday through Saturday so that you can shop during your free time. Stop by today. Our entire team looks forward to meeting you and answering all your questions.
Directions to Nissan Shorewood
Contact us about the 2017 Nissan NV Passenger