2017 Nissan NV Passenger near St. Francis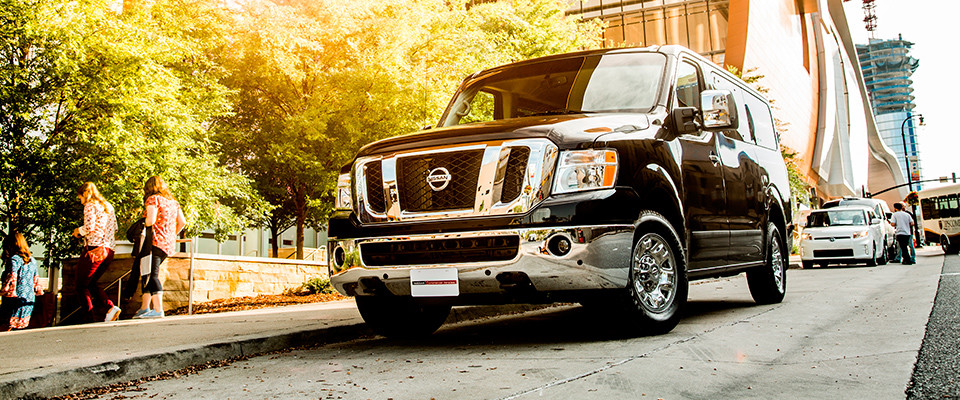 View 2017 Nissan NV Passenger Inventory
2017 Nissan NV Passenger near St. Francis
The average St. Francis driver requires a lot of their vehicle, but nowhere is that more true than with passenger vans that also do double duty as cargo vans. Fortunately, the 2017 NV Passenger from Nissan is designed to deliver on all fronts by providing up to 12 passengers with plenty of room while also acting as a spacious cargo van. Nissan has single-handedly changed the field of passenger vans by providing a powerful, high performance model that also incorporates luxurious features that customers have come to expect from Nissan.
St. Francis 2017 NV Passenger Vehicle Information
There are a variety of different options when it comes to finding the right combination of features and performance with the NV Passenger. First, choose between three different trim packages. The S trim offers the basics, including front and rear air-conditioning, three rows of configurable bench seats and a four-speaker audio system. Upgrade to the SV trim for remote keyless entry, cruise control, four 12-volt power outlets located throughout the cabin and a six-speaker stereo with audio controls on the steering wheel. For the best in luxury, opt for the SL trim with additional leather upholstery, dual-zone automatic climate control, and touchscreen controls and navigation system.
The 2017 NV Passenger also comes in three different chassis configurations: the 1500, 2500 and 3500. While each option provides a similar exterior look, they each offer different payload and towing capacities. You can also add a higher roof to any of the available options for more overhead room.
For those who will be using their van for business, the 2017 NV Passenger comes equipped with built-in mounting points so that racks and other storage systems can be easily installed. There is no need to invest in alterations that may create weak points in the body of the vehicle. Nissan is also the first car manufacturer to address the needs of an increasingly mobile workforce in the design of their vans. The center console provides a hard surface for writing and can be used to hang file folders. Additional storage space is perfect for placing cellphones, chargers and other equipment.
Specifications for the 2017 NV Passenger Van
The NV Passenger comes equipped with the 5.6-liter Endurance V-8 engine and 7-speed automatic transmission. The combination provides 375 horsepower and 387 pound-feet of torque. Not only does the drive train provide impressive performance, but it is also designed to operate as efficiently as possible for better gas mileage. Nissan estimates an 8 percent improvement in efficiency over their previous models.
In addition to an innovative and impressive engine, the 2017 NV Passenger also comes standard with class-leading braking equipment and suspension systems. Four-corner disc brakes with ABS will quickly bring the van to a full stop even when it is loaded up with passengers and equipment. The cutting-edge MacPherson struts and stabilizer bar also work to absorb bumps and provide a surprisingly smooth ride that you wouldn't expect from such a spacious van.
A side-to-side comparison with the competition quickly reveals that Nissan has managed to create a truly unique vehicle that offers the best in powerful performance and innovative features that improve comfort and convenience. There simply isn't a better value on the market.
If you would like to learn more about the 2017 NV Passenger and how it can help you transport passengers and cargo in St. Francis, call or visit Russ Darrow Nissan today. Our convenient location is just a short drive away, and we are open Monday through Saturday. Stop by today to speak with a knowledgeable representative and go for a test drive.
Directions to Nissan St. Francis
Contact us about the 2017 Nissan NV Passenger