2017 Nissan NV Passenger near Waukesha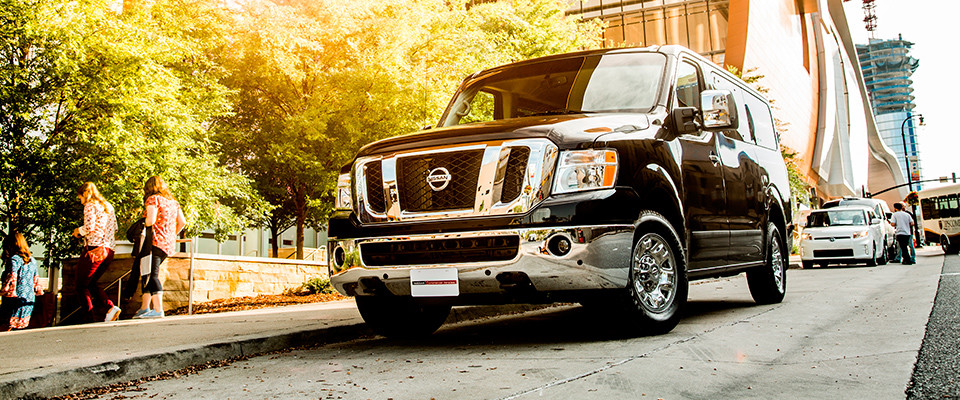 View 2017 Nissan NV Passenger Inventory
2017 Nissan NV Passenger near Waukesha
While the everyday Waukesha driver doesn't need to transport more than a few passengers at a time, there are plenty of situations where a typical mini-van just won't provide enough room. That is there the 2017 NV Passenger Van comes to save the day. It can comfortably accommodate up to 12 passengers and provide enough room to easily maneuver in and out of the vehicle without having to climb over seats or other passengers. Not to mention all the ample cargo space and other attractive features that make the 2017 NV Passenger the best in available transport vans.
Nissan 2017 NV Passenger Van Vehicle Information
The 2017 NV Passenger comes in several trim packages that can accommodate your needs and your budget. The S trim is the most affordable option, but most people, especially those who will be carrying passengers rather than cargo, will want to upgrade to the SV trim. Additional features including chrome exterior features, cruise control, four 12-volt power outlets throughout the cabin and a powerful audio system provide certain comforts and make the van feel less utilitarian.
The SL trim package represents the ultimate in van comfort and performance. You will enjoy the power of a V8 engine along with a Class IV tow hitch and extendable tow mirrors. This combination means you will easily be able to tow up to 8,700 pounds. Fog lights, parking sensors, dual-zone automatic climate control and a comprehensive navigation system provide comfort and convenience for both the Waukesha driver and passengers.
Specifications for the 2017 NV Passenger
Nissan has earned a reputation for creating innovative vehicles that provide an attractive combination between performance and luxury. The new Passenger is no exception. In fact, the model has been credited with revitalizing the cargo van and adding features that raise the bar in a field where the competition is tight.
A few notable improvements include the powerful V8 engine, seven-speed automatic transmission and better fuel efficiency. Drivers will enjoy 375 horsepower and a top speed of 100 mph. It also comes with three different chassis configurations to choose from. All three options look similar on the exterior but offer different payload and towing capabilities. For the most power, choose the 3500. Another popular option is the high roof, which can make transporting a variety of large items easier than ever.
Whether you plan on transporting cargo or passengers, the 2017 NV Passenger comes fully equipped to handle your needs. Built-in mounting brackets placed throughout the cabin can secure equipment in place without having to pay for customized alterations that can affect the integrity of the vehicle. The front bumper even has towing hooks for added safety and convenience.
The van also comes with a traditional two-door opening at the first row of seats along with a sliding passenger door for increase access. The backdoor swings open and can be positioned to stop along several points of its traveling path. Finally, the seats can be easily moved and configured to accommodate passengers and make the interior even more comfortable and accessible. Step downs are located at each door for safe entry and exits.
Ultimately, the 2017 NV Passenger provides a powerful, versatile and luxurious solution to transporting both goods and people. One step inside, and you will realize that it isn't your average cargo van. To take a new model for a test drive, visit Russ Darrow Nissan. We are conveniently located near Waukesha and open Monday through Saturday so that you can shop after work or during your free time. Call or stop by today!
Directions to Nissan Waukesha
Contact us about the 2017 Nissan NV Passenger