2017 Nissan NV Passenger near Whitefish Bay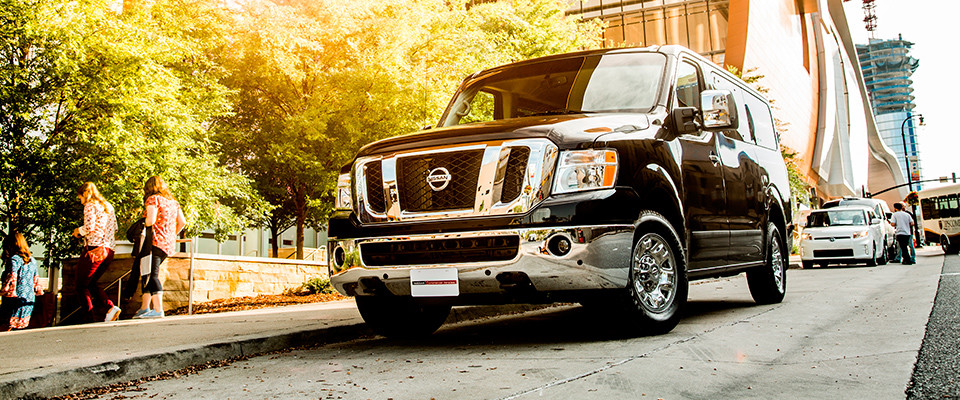 View 2017 Nissan NV Passenger Inventory
2017 Nissan NV Passenger near Whitefish Bay
The 2017 NV Passenger had the same stylish and powerful body style that drivers have come to associate with this spacious van, but it has been improved with the addition of a new drive train system. Drivers can enjoy the luxury and convenience of Nissan design innovations along with unmatched power and towing capabilities among its class.
New 2017 NV Passenger Vehicle Information
The NV Passenger is designed to comfortably accommodate up to 12 passengers and still offer plenty of cargo space. For those who use their van as a mobile office and need to transport equipment, the seats can be easily removed or configured in order to easily open up additional storage space. Drivers can quickly achieve any mix of passengers and cargo in order to fit their needs on any given day.
You can choose from among three different trim levels and a variety of other options in order to design the perfect model. The basic S trim package comes standard with a 4.0-liter V6 engine and a five-speed, rear wheel drive transmission. It also includes front-and rear-air conditioning, a four speaker stereo and bench seats.
Upgrade to the SV to enjoy more technology and luxury features throughout. From a security system, remote keyless entry, power windows and locks, strategically placed 12-volt power outlets to cruise control and a six-speaker stereo system, this package includes plenty of bells and whistles. You can also add a 5.6-liter V8 and enjoy 375 horsepower.
For the absolute best in luxury and performance, the SL trim delivers foglights, bluetooth capabilities, a 5.8 touchscreen, leather seats and navigation system. Additional safety features include: front parking sensors, a rearview camera and hands-free testing. It truly represents a modern combination or form and function.
Specifications of the 2017 NV Passenger
While a comfortable and luxurious interior is certainly a plus, the 2017 NV Passenger really shines where is counts most: power and performance. A fully loaded van with a V-8 engine can still tow up to 8,700 pounds. This model comes with three different chassis configurations that each offer different payload capacities, depending on your needs. The new drive train system has also improve fuel efficiency, which means fewer trips to the gas station.
The addition of the seven-speed transmission also helps to create a smooth and powerful ride that is first in its class. The gears and spaced more widely than traditional configurations and a fluid warmer also helps to reduce friction and increase efficiency. The 2017 NV Passenger will effortlessly shift even under demanding circumstances.
If you plan on using your van to haul equipment, you will be happy to learn that the 2017 NV Passenger comes with mounting points for cargo racks and frame-mounted hooks located in the front bumper. You won't have to worry about investing in additional labor, that can produce weak points in the integrity of the vehicle, in order to outfit your van.
Even the dashboard is designed for work. There is plenty space for cups and cell phones, along with hard writing surfaces. The center console slides forward to provides a desk and opens up to reveal special hooks that can hold hanging folders. Your 2017 NV Passenger can truly operate as a mobile office to help you stay organized while on the road.
Russ Darrow Nissan is located just minutes from Whitefish Bay and proudly serves the surrounding communities. Our friendly and knowledgeable staff is on-site Monday through Saturday, ready to answer your questions and provide you with an unbeatable car buying experience. Come see us today and test drive a 2017 NV Passenger.
Directions to Nissan Whitefish Bay
Contact us about the 2017 Nissan NV Passenger