Russ Darrow Nissan Tire Department
Russ Darrow Nissan of Milwaukee knows how important your tires are to your car. If you are looking for tires for sale in Milwaukee, then stop in and take advantage of our Nissan tire center. We are conveniently located near Wauwatosa, West Allis, Brookfield, and Menomonee Falls, WI, so you are never far from a great deal on tire services and sales.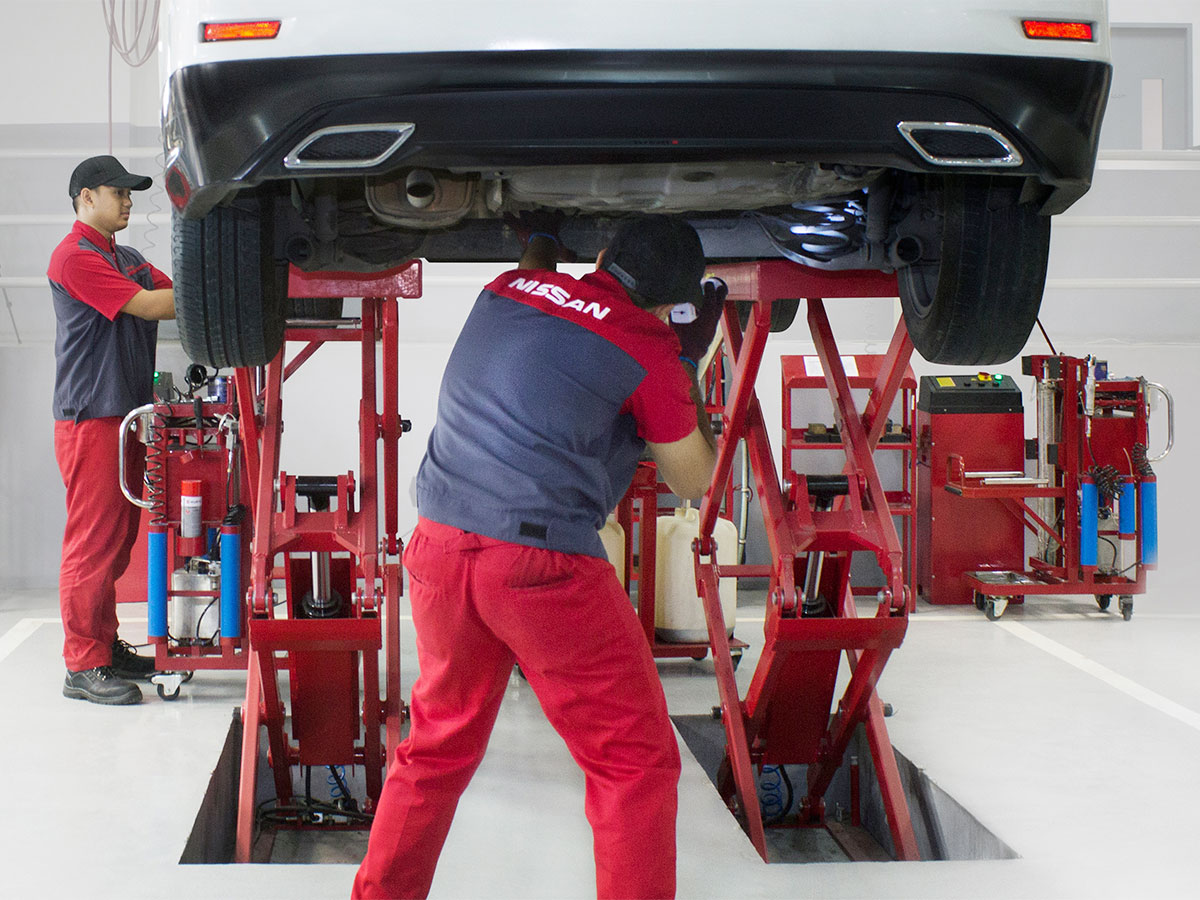 Tires Services
Russ Darrow Nissan offers a variety of tire services for your Nissan. All of these services help keep your tires in good shape and promote their longevity. Here is a list of some of the services we offer.
Tire Patching and Repairs - If you are having trouble with a leaking tire, and your tire is still new with good tread, then you may just need a patch or repair. We can fix leaks, install a new tire valve, or do other tire repairs. Don't continue to drive on a leaky tire because doing this could further damage the tire and your rims.
Tire Rotation and Balancing - Tire rotation and balancing is extremely important and extends the life of your tires. If you don't rotate the tires, then you are more likely to experience uneven wear. Balancing helps smooth out your ride and keep the tire from vibrating and affecting your handling.
Tire Inspections - We can inspect your tires, measure your tread depth, and give you an overall evaluation of your tires' condition. We will also give you an idea of how soon you may need your next new set of tires.
Wheel Alignment - Wheel alignments help reduce excessively and early wear as well as maintain good handling and safety. When your wheels are not aligned properly, then your car may drift, be more difficult to steer, and even use up more fuel than necessary.
SCHEDULE SERVICE
Tire Sales
Tires don't last forever, so when you've finally reached the end of the road with your Nissan's tires, then our Nissan tire center can help you find ones that work best with your model. We also include road hazard coverage on eligible tires for no additional charge for those unexpected problems such as punctures. Also, ask your service advisor about tire price assurance. New tires include many advantages, some of which are included below:
Improved traction
Better gas mileage
More precise handling
Smoother ride
Safety and peace of mind
Schedule Your Next Tire Inspection or Come into Shop for New Tires
Russ Darrow Nissan of Milwaukee can handle all your tire and wheel needs and we have experienced, factory-trained technicians who will help you with all your Nissan's repair needs. Our service and parts department are open six full days a week for your convenience. Call us or submit our easy online form to make an appointment.
ORDER TIRES
Comfortable Lounge
TVs
Free WiFi
Magazines
Complimentary Coffee
Courtesy Local Area Shuttle
Russ Darrow Rental Program
Darrow Group Gold Rewards Program
Vending Machines
Kids Zone
Popcorn
Open on Saturdays